Guangzhou Shenzhen Urban Service Development Leads the Country| Urban Services
2022.06.21 14:26Publisher:
Property companies have recognized that the urban space service industry is still a blue ocean, which has seen businesses increasingly appreciating in recent years. Onewo, Poly Property, and other top real estate companies have created separate brands of urban services and quickened the pace of market-driven growth. However, the service industry in many cities across the nation is still dependent on local and regional trial projects. Guangzhou and Shenzhen's extensive promotion offers fresh perspectives on advancing urban services.
01
Meticulous management and upgrading of cities
Modernization of urban governance
Official policy is the wind vane for market development, and its direction is inseparable from the growth of urban service businesses. Since 2013, national and municipal governments have released several policies to encourage the growth of urban service businesses, while the focus of the policies varies slightly over time. We can categorize policy development into three primary phases based on the characteristics of the policy:
The first stage: The marketization stage of urban service is the initial stage. The central government adopted pertinent policies to encourage the government to purchase services and actively encourage social capital and subjects to work in the public sector.
The second stage: The second step is the fine-tuning stage of management. As Xi Jinping said in 2017, "Urban administration should be as beautiful as embroidery." Urban development requires careful urban management. Continuous efforts must be made to deepen and strengthen social governance and increase the vitality of social development. Cities across the nation have released three-year action plans for exemplary urban management since 2018 to clarify sound urban management.
The third stage: The third stage of urban governance is modernization. A co-construction, co-governance, and sharing model of social governance were recommended by the State Council as early as 2017 in the guiding opinions of the 19th National Congress of the Communist Party of China. The CPC Central Committee added significant components to China's social governance structure, such as democratic consultation and scientific and technological support. The government continued to lead urban governance since market-oriented businesses lacked capacity. The ability of head enterprises to provide urban services has improved in recent years, and the government has also assumed greater market-oriented involvement in urban governance. Urban government ushered in modern growth in outdated residential areas, rubbish classification, and rural administration.
As urban service businesses modernize and expand from marketization to refinement, urban governance has led to a broader urban service scope, raising the bar for property enterprises' capacity for providing urban servicing.
02
Guangzhou and Shenzhen lead the development of urban space service.
The street is the main bidding body.
Guangzhou and Shenzhen are at the country's forefront regarding policy intensification and implementation.
Guangzhou's 18 Town Street piloted global service governance and established an organization for urban service operations to encourage urban service businesses. Guangzhou released the pilot work plan on implementing global service governance of town streets at the end of 2021. It aims to explore the global service governance model of town streets in huge cities while continuing to modernize the urban governance system and governance capacity. It is acknowledged that the term "Global Service Governance" in Guangzhou encompasses the entire region, the entire cycle, and all components of service governance. Depending on the circumstances, the city will delegate specific regular tasks and services unrelated to government administration or administrative law enforcement to outside service companies operating as the "big housekeeper" of urban management. The government will allow businesses to self-expand to generate more money by reactivating underutilized public resources and establishing new sectors. At the same time, offering top-notch public services will also decrease the strain on local governments and cut costs and boost efficiency.
Guangzhou held a mobilization meeting for Zhenjie's global service governance pilot work on April 1, 2022, reported on the progress of pertinent work, and thoroughly began the pilot work. The "city butler" project of pilot town streets in various city districts has gradually reached the market. Now, Guangzhou has decided to implement global service governance in 18 of the city's town streets (districts).
After two years of planning, Guangzhou Urban Service Operation Association was formally created on June 6, 2022. It resulted from the global service governance pilot project in Zhenjie, Guangzhou.
The launch of regional, full-cycle, and all-factor global service governance will be further supported by the creation of the Guangzhou Urban Service Operation Association. It also makes it easier to investigate and demonstrate the pertinent fundamental management laws and regulations governing Guangzhou's urban service operation and put good ideas and countermeasures into practice.
90% of the tenderers for Shenzhen's "city butler" project are streets, and 30% of the city's streets have fully switched from a "sanitation service" to "city upkeep" mode.
As the birthplace of national property management, Shenzhen has led the way in deploying urban service businesses across the nation. According to publicly available information, since December 2019, Shenzhen opened bids for 31 city upkeep government procurement projects. Their annual value is close to 1.7 billion yuan, including 27 street-level projects, accounting for nearly 90% of the total. This includes the pilot Shenzhen Futian District property management project, the city's first "city upkeep" government procurement pilot project. Statistics show that Shenzhen has 74 streets altogether and that 29.7% of the 31 "city upkeep" projects have finished switching from "sanitation service" to "city upkeep" mode.
In Guangzhou and Shenzhen, the national multi-city "city upkeep" project still exhibits point-like development traits and has not yet established a good development trend.
The implementation of "city upkeep" initiatives have been observed by Kerr Ruiwu Management in numerous Chinese cities, including Quanzhou, Shanghai, Suzhou, Urumqi, Foshan, and others. Most of these urban landing projects are the city's first or one of its few "city upkeep" programs. The active expansion of head property enterprises is mostly to blame for the arrival of these projects in Quanzhou, Urumqi, Foshan, and other cities. Most cities continue to use urban services as a pilot project to increase the overall level of urban governance and have not yet started operating urban service businesses from the perspective of urban development.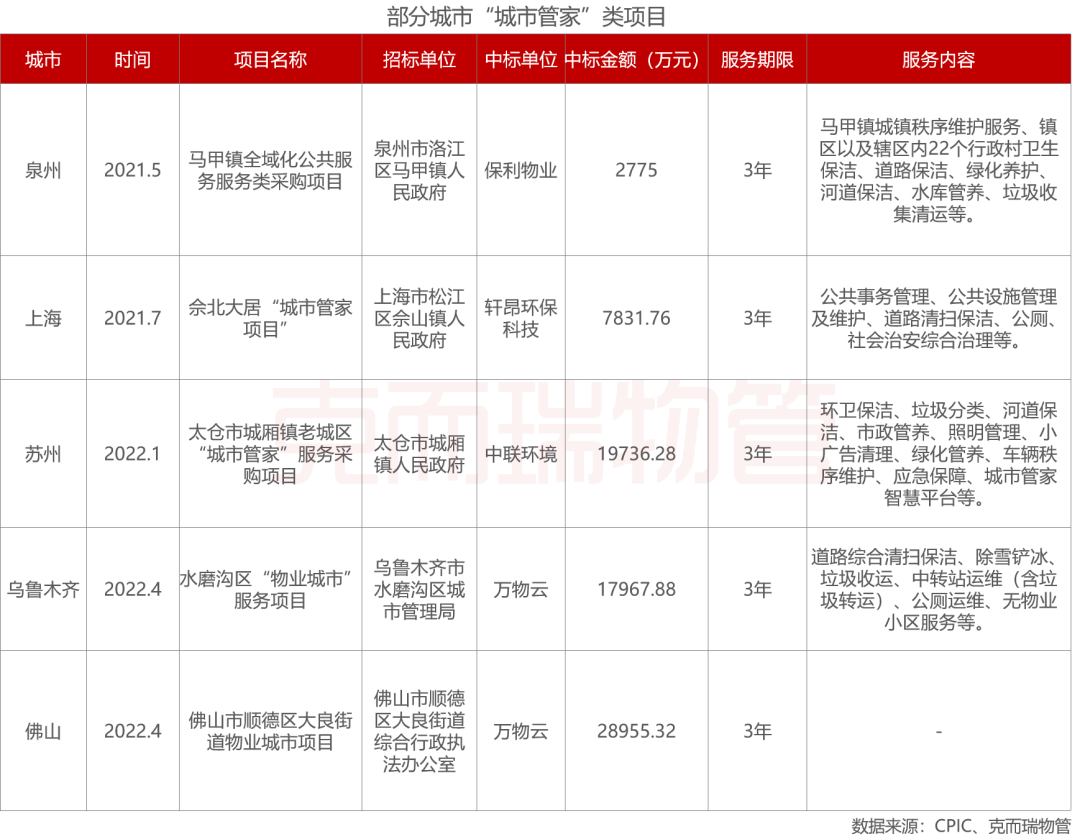 03

Property management company continue to dominate the urban service sector as contractors.
Leading property management enterprises may usher in development opportunities.
In recent years, property enterprises have increasingly focused on the urban service sector. The service offerings primarily include traditional municipal sanitation, resource management, government assistance management, and intelligent construction. The conventional four guarantees and service businesses of real estate firms and urban service businesses intersect, so expanding real estate businesses into urban areas is practical. Still, they face fierce competition from traditional municipal sanitation businesses. But from the perspective of the successful bidder for the "city butler" project, real estate companies continue to be the principal providers of urban services. As an illustration, out of the 31 "city butler" projects launched in Shenzhen, 77% of the successful bidders are property firms, and 23% are sanitation enterprises.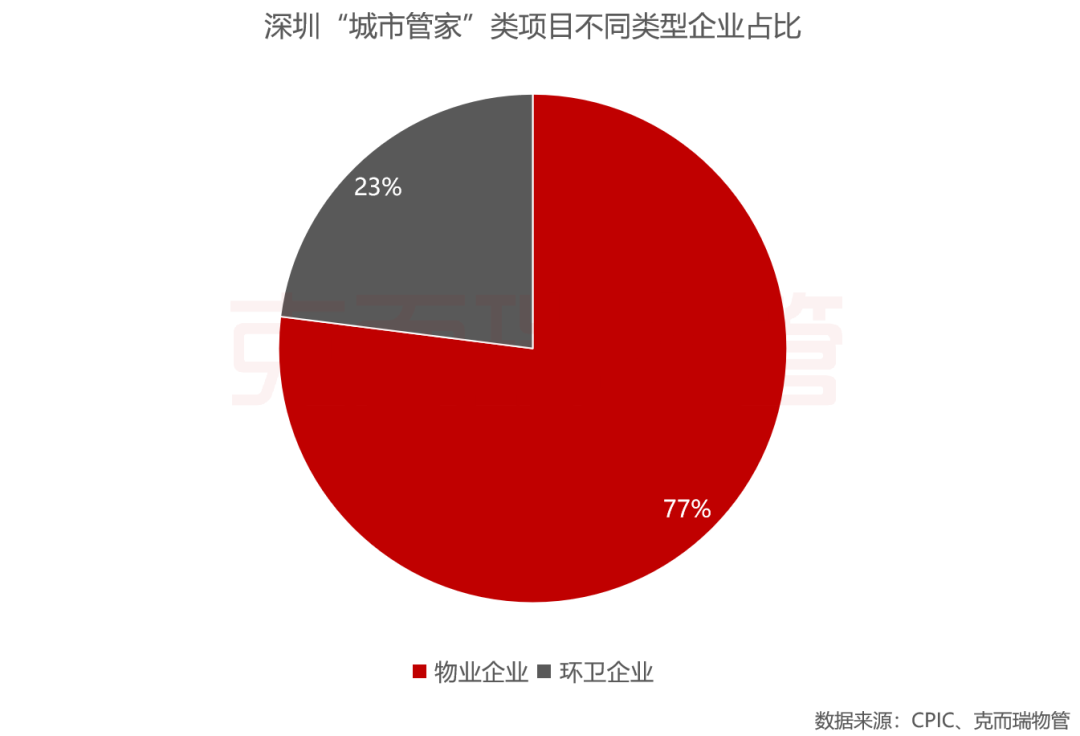 The design and capacity shaping of the leading property businesses in the urban service industry has started to take shape recently. As an illustration, consider Onewo and Poly Property. As of December 31, 2021, Onewo's urban space business has already spread to 22 cities nationwide, totaling 47 projects, as its urban service boundary continues expanding from new towns to old streets. It has established a full-process business combining management, service, and operation and developed a mature four-step service method.
In addition, the newly developed street strategy known as "Butterfly City" emphasizes high concentration and high efficiency, boosts income, and lowers costs based on the street concentration structure. It promotes space efficiency through remote operation and mixed services. Sakata Street has completed several residential developments, and the "Butterfly City" idea has shown some early success.
Since entering the Xitang Scenic Spot in 2016, Poly Property has steadily increased the acceptance of public properties and developed various urban services models, including scenic spot governance, urban global governance, and urban optimization. It is led by the "Zhenxing China" brand to encourage the system's improvement and implementation.
Poly Property's business model is continually evolving in terms of external expansion. The majority of the projects that it took on straight from the government during the early stages of growth were vertical. When Poly Environment was founded in January 2022, 65% of its equity comprised Poly Property, 20% of Zhongcheng Zhijie, and 15% of Hengqin Pubang. Since then, the poly property has begun the joint venture cooperation expanding mode. The number of successful bids for poly property's urban service projects climbed dramatically in 2022, following the Kerui property management's monitoring. In April 2022, Poly Environment also got the initial project, and Poly Property's method of project acquisition broadened.
Promoting urban services in the two cities cannot be separated from the involvement and promotion of Poly property and Onewu from the standpoint of the growth of the Guangzhou-Shenzhen urban service business. The urban global governance in the "big property" concept unveiled by Poly Property in 2019 is comparable to the worldwide service governance adopted in Guangzhou. Onewo branded its urban service enterprise "Property City" and duplicated it in other cities across the country since its test operation in Hengqin in 2015. Projects named as a "property city" makeup 44% of the 31 "city upkeep" projects opened in Shenzhen. It is clear to see that Onewo plays a significant part in the service industry in Shenzhen city.
To some extent, the enterprise nature of Poly Property and Everything Cloud and the extensive penetration of businesses in Guangzhou and Shenzhen account for these two companies' dominant positions in urban services in Guangzhou and Shenzhen. The head property firms' resource and capability advantages in the urban service industry are also becoming more noticeable. The head enterprise's urban service enterprises will increase quickly as Guangzhou and Shenzhen promote the urban service model and other cities start to implement it.
04
Summary
The market for urban services is opening rapidly due to ongoing improvements in sound urban management and urban administration modernization. Guangzhou and Shenzhen's widespread promotion serves as a barometer for the continued growth of urban services across the nation as more cities follow Guangzhou and Shenzhen's lead. As the urban service industry is more polished, the heads of material firms may still profit from the accumulation of political and economic resources and the shaping and improvement of urban service capacity.